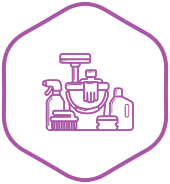 Professional Carpet Cleaning in Houston
Look no further - UCM Cleaning Services is your reliable office and house cleaning services provider. We can offer you our professional service packages, which include the cleanliness of carpets, upholstery, rugs and furniture. At the same time, our experts can provide additional service packages, which include the treatment of air ducts, wood floors, vehicle's interior, tiles and much more. Our non obligatory estimate is the key to a clean and neat property in the Houston area.
Our basic services include:
Carpet Cleaning in Houston - have all your carpeted surfaces professionally cleaned in no time.
Upholstery Fabric Treatment - prolong the lifespan of your upholstery and control allergies & asthma.
Furniture Care - give your furnishings a total make over.
Delicate Rug Assistance - save yourself the hassle when dealing with delicate rugs.
Here are some constructive tips from our staff:
* Check the efficiency of your vacuuming easily by holding up a corner of your rug and then kicking it from behind. A few flying dust particles are acceptable, but if you see a cloud of dust, you are holding a health hazard in your hands. Riding your carpets of dust and dirt will help control allergies & asthma problems in Houston Texas area.
* The next time you come home - take off your shoes. The residue that accumulates on your soles is deposited in your rug and carpets with every step you take.
Our technicians supply additional services, like fire & water damage restoration; auto interior care; wood floors refinishing; air ducts treatment; grout tile work; pet stain and odor removal. We are your one stop shop solution when it comes to vacuuming, shampooing, disinfecting, deodorizing, drying and cleaning your residential and commercial sites.
All of our services are backed up by state of the art innovative carpet cleaning equipment (truck mounts) and natural cleaning products. We utilize our famous green clean method when we come to sanitize your household or place of businesses. Our truck mounted carpet cleaning units are capable of carrying proficient steam & dry cleaning appliance, which will leave your Houston premises spotless, sterilized and free of harmful pollutants. Our Eco-Friendly products not only play very important role in this scenario, but also help to avoid possible health damages.